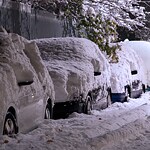 Does your car's heater and defroster work? Drivers won't know until they turn the system on, and they might not do so until the first day of winter. That would be a bad time to discover the system isn't working the way it should. Drivers who engage in winter care steps might check the system long before winter winds roll into Wilkes Barre. There are other steps a savvy driver might take.
Coolant used to be known as "antifreeze" for a reason, and the radiator needs it. Getting the levels checked and any old fluid replaced should be a priority. Radiator hoses benefit from inspections since they may leak.
Adding winter windshield wiper blades and winter tires could address some harsh weather concerns. So might adding protective wax to keep corrosive salt off the paint.
Ken Pollock Alfa Romeo is ready to help drivers deal with winter car responsibilities. Our Wilkes Barre location provides winter care and much more.