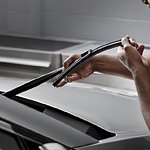 There are many types of wiper blades available that fit all of the vehicles manufactured today. However, during the winter, the harsh ice and snow present a greater challenge that becomes easier when using wiper blades made especially for the climate.
Winter blades are known as beam wipers. They are specially created for temperatures that dip below freezing plus the precipitation that occurs during winter. The blades are curved to conform to the windshield and consist of a solid piece of durable rubber. The rubber is attached to a solid metal frame for easy installation. The overall durability of the blades also ensure that they last at least twice as long as conventional blades.
Our Ken Pollock Alfa Romeo garage is equipped with all of the parts needed to prepare your vehicle for the onslaught of winter. Our technicians are available to quickly install winter windshield wiper blades that accommodate your make and model of vehicle.