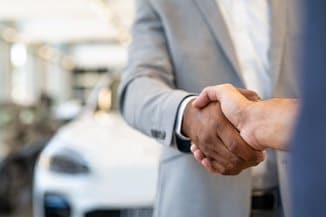 You've found a new car you like, but now you're wondering what to do with your current vehicle. You could try to sell it on your own, or you can take the easy route and trade in your car at Ken Pollock Alfa Romeo!

Our dealership makes it easy for drivers to trade in their current vehicle and get money toward a new model.
How the Trade-In Process Works
To start the trade-in process, you just need to fill out a simple form on our website. Give us your contact information and we'll get right back to you. From there, we'll evaluate your vehicle and we'll give you a fair offer.
What's great about this is that you do not even need to be purchasing a new Alfa Romeo car from our dealership. You can trade in your vehicle and take the cash, without putting it towards another vehicle.
It's no secret that good used cars are hard to find right now due to low inventories. If your car is in good condition, it might be a great time to trade it in at our Alfa Romeo dealership in Wilkes-Barre.
Why Trade In Your Car?
You may be wondering why you should trade in your car at all. Why not just sell it on your own? Many drivers underestimate how annoying it can be to sell a vehicle by themselves. You have to take out ads and deal with a bunch of buyers who don't take your time seriously. When you trade in your car at our dealership, it's simple. You get an offer, and then you can just take it.
So whether you're shopping for a new Alfa Romeo vehicle or you just plan to trade in your car and take the cash, visit our Alfa Romeo dealers and ask about our trade-in program. We'll make it easy to get a fair offer for your vehicle.